We are a collection of Broads. The term would indicate that we are less respectable than ladies but way more respectable than bitches..(hmm I feel the feminist groups coming after us..) We do not agree.
There is no negativity attached to being a called a broad. We are tough, no nonsense women who are a little older, somewhat savvy and more knowledgeable about life than we used to be and, well, we had to call ourselves something and it just seemed to fit.
We have known each other for over 40 years and a couple of us more than 50 (see only a broad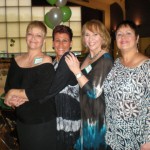 can write those kinds of numbers with no regret!).  Each has had a different life's journey, several of us not even passing each other on our journey for years, until all our lives intersected about 5 years ago. Too bad, because being the dear friends we are now, we could have helped each other over some very rough times but we are here together now and that is everything.
In these past years we have developed a quirky bond, and a deep respect for one another, a sisterhood of sorts. Good things usually happen when the 4 Broads gather. There is fun, discovery, sometimes farkle and honest pee your pants moments, as you will come to learn.
We are the 4 Broads and proud of it.  We are hoping that you enjoy our musings and please feel free to comment, ask questions and tell us stories that might jog our collective memories and get the juices flowing for blogs we haven't even thought about yet.
To find out more about us click on our picture below. To see our blogs simply click any titles under Most Recent or any of the links in the categories on your right! We hope you will enjoy hanging with us!
The 4 Broads.
 Be sure to subscribe to   4 Broads dish via email (over there to your right  right.. under the search box)
and remember to  Shop Amazon – New Year New You
!